Principal's Newsletter
Dr. Certo
Tuesday, February 19, 2019
Dear Parents/Guardians and Students:

Everyone possesses perspective (important points-of-view or ways of looking at the world, which are directly shaped by our life experiences, our values and the assumptions we bring into situations.), which we continue to gather throughout our lives. It has been said that perspective governs our mental outlook, which determines our attitude, how we choose to interpret things and how we decide to respond. An individual's willingness to be open to new perspectives and to share their unique perspective can greatly benefit all those around them. Earlier this month, I asked the Lakeland Faculty to keep a focus on building and sharing (their) perspective throughout the 2018-19 school year.
Moreover, perspective-taking, or the ability to "step into someone else's shoes" has been identified by The London Business School as a powerful and important life skill. United States Naval Academy graduate and best-selling author, Denis Waitley, underscores the importance of gaining perspective when he says, "Winners have the ability to step back from the canvas of their lives like an artist gaining perspective. They make their lives a work of art - an individual masterpiece." As our students and our school work to make themselves better this year, I hope every Lancer finds multiple occasions to stop, reflect and use their individual power of perspective.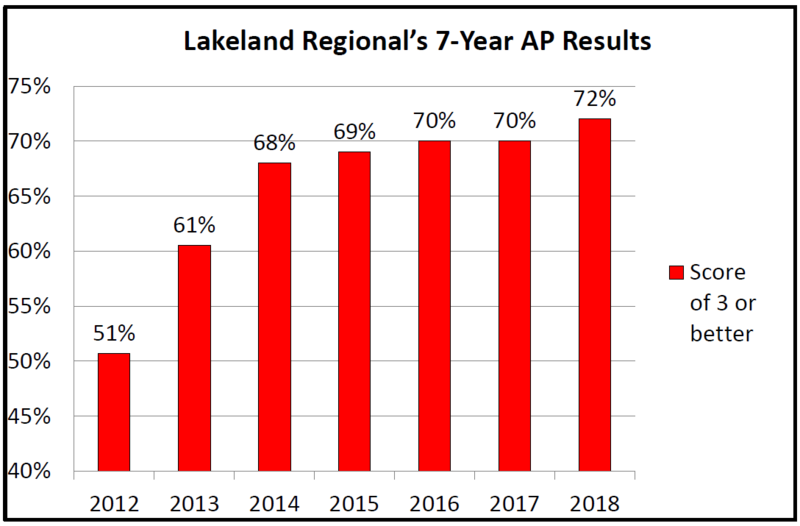 Not By Accident…….
Consistent, incremental improvement does not happen by luck, by chance, or by accident. A seven-year (7) increase in Lakeland's AP scores (graph above) indicates that Lakeland's master teachers are employing the best teaching techniques and motivational methods. It also points to any number of other logical conclusions: that our curriculum is aligned and serving as a roadmap, that testing conditions are ideal, that differentiation of instruction is happening, or that the students feel confidence in their understanding of the content. Whatever cause you believe is responsible for the (desired) effect, these results show a clear, undeniable improvement in student achievement at Lakeland. Needless to say, we are extremely proud of our students and staff for their hard work and continued efforts.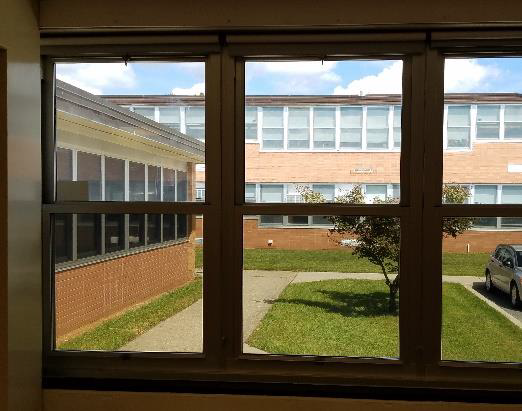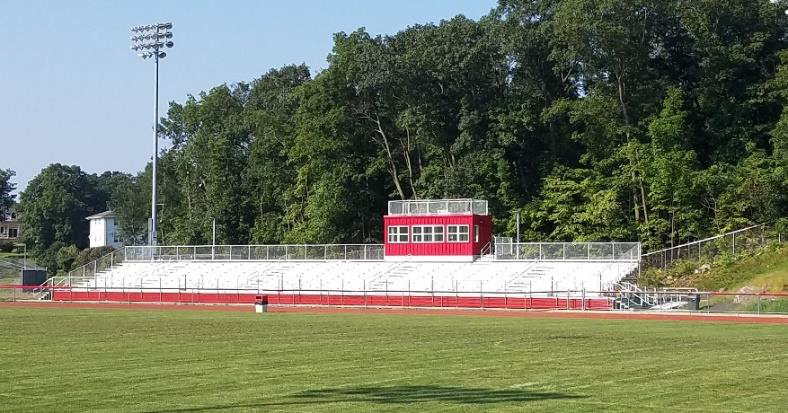 Safety First...
A series of technological, structural and personnel upgrades have enhanced Lakeland's school safety over the summer. First, all first-floor windows throughout both buildings have been fitted with a protective film (3M) that helps protect students/staff from flying glass shards and harmful UV rays. Additionally, the tinted window film (above left) is micro-layered and tear-resistant, which will slow down any potential intruders. Second, a vestibule and security window have been added to Main Office entrance of the East Building. New procedures require all visitors to produce identification if they wish to gain access to the Main office. Third, numerous additional 24-hour (live recording) security cameras have been installed throughout the Lakeland campus. Fourth, the 40-year old athletic field bleachers have been replaced by new ADA-compliant metal bleachers (above right). Fifth, the Wanaque Police Department has assigned officers to be the new School Resource Officers. You can rest assured, all Lakeland students and staff are extremely safe while they are on the Lakeland campus, day or night.

New Teachers at Lakeland for 2018-2019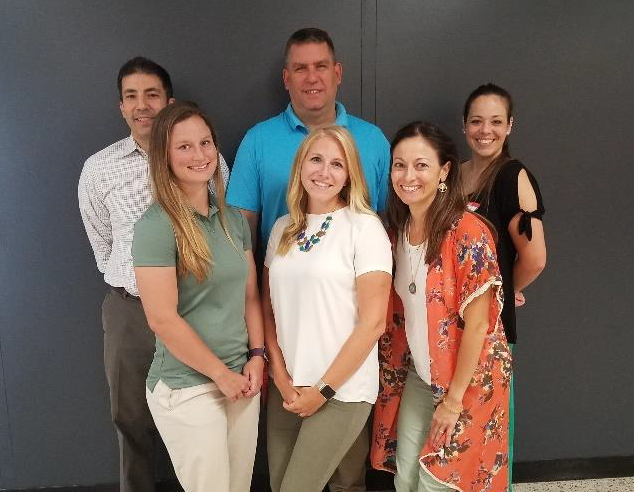 Front Row (Left to Right) – Ms. Louise Marlow (Physical Education), Ms. Caitlin Vauter (Special Education), Ms. Melissa Gentile (Special Education).
Back Row (Left to Right) – Mr. Omar Perez (World Language), Mr. Brian Phillips (Physical Education), Ms. Kelly Norton (Student AssistanceCoordinator).
Thank you for supporting the work we do with your child(ren)! If you have any questions or concerns, please contact me at 973-835-1900 x 148 or mcerto@lakeland.k12.nj.us.
Respectfully,
Matthew Certo